People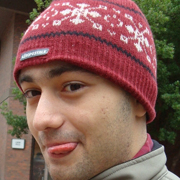 Cagdas Varel
Graduate Student
Department of Electrical Engineering
University of Washington
Box 352600, 253J EE/CSE Building
Seattle, WA 98195-2600, USA
| | |
| --- | --- |
| Email: | |
| Homepage: | |
| tel: | 206 616-6170 |
| fax: | 206 616-6170 |
Bio
Cagdas has recieved his B.S. degree in Electrical and Electronics Engineering with a minor in Solid State Physics from Middle East Technical Univesity (Ankara, Turkey) in 2007. He participated in research on chip scale energy harvesting in BioMEMS Lab during his undergraduate. He worked as a summer intern for IMEC (Leuven, Belgium) in 2006. He is currently in his second year in graduate school and working on fabrication of flourescence based sensing systems for single cell analysis. He is awarded with UIF fellowship by Center for Nanotechnology in 2008. In his free time, he likes travelling, playing basketball,hiking and cooking.

Research
His research interests include Bio-MEMS applications in treatment and investigation of diseases, Bio-Implants and Bio-Inspired systems. You can find more information on his current project here.

Recent Publications
Cagdas Varel, Justin Yu Chang, and Karl F. Böhringer, "Lab-on-a-chip Device for Single Cell Respiration Rate Measurement" Pacific Northwest Microsystems and Nanotechnology Meeting Friday Harbor, September 3-7, 2008.