People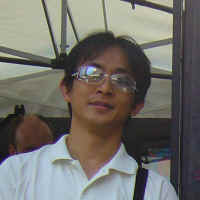 Kwang Soon Park
Graduate Student
Department of Electrical Engineering
University of Washington
Box 352500, 253J EE/CSE Building
Seattle, WA 98195-2500, USA
| | |
| --- | --- |
| Email: | gomgom75@u.washington.edu, gomgom75@gmail.com |
| Homepage: | http://sites.google.com/site/gomgom75/Welcome/research-area |
| tel: | 206 402-8337 |
| fax: | 206 616-6170 |
Bio  
Kwang Soon Park has received B.S. and M.S. degrees in Elecctrical Engineering with a microsensor system from Kyungpook National University in 1998, 2000 resepectively. He worked on the flow sensor system during his graduate. He is currently pursuing the Ph.D. degree in electrical engineering at the University of Washington - Seattle.

He was a senior research engineer at LG display. He worked on robust design project last two years and as a six sigma consultant after he was certified as a Six Sigma MBB (Master Black Belt) by LG Corp in 2005. His research interests include fluidic self-assembly and microdisplay, and other topics in MEMS and NEMS device design and fabrication.
Research
He just began to research on fluidic self-assembly and micro assembly.
More about my research here.
Recent Publications
Master's thesis
Temperature compensation of hot-film flow sensor and optimum system design according to media
2008
Patents
Country

Patent No.

Date Patented

Title

USA

6,842,203

2005.01.11 

Liquid crystal display of line-on-glass type

USA

7,113,160

2006.09.26 

Method and apparatus of driving liquid crystal display device 

USA

7,057,582

2006.06.06 

Liquid crystal display device and driving method thereof 

USA

7,116,303

2006.10.03 

Apparatus and method of driving liquid crystal display device 

USA

7,084,842

2006.08.01 

Apparatus and method for driving liquid crystal display device 

USA

6,927,810

2005.08.09 

Liquid crystal display device having indented gate electrode and fabricating method thereof 

U.K.

2,388,950

2004.08.04 

Liquid crystal display device and driving method thereof 

France

2,840,106

2006.05.05 

Liquid crystal display device and driving method thereof 

USA

7,239,363

2007.07.03 

Liquid crystal display device including color filter 

Korea

P01-084375, P01-060700, P02-031640, P02-018894, P02-033522,
P02-018896, P02-028605, P02-031044, P02-088481, P02-032176,
P02-028694, P02-064063, P02-081979, P03-005309, P02-081980,
P02-087004, P02-087004, P02-081982, P02-082080, P03-041121,
P03-058179, P03-070743, P03-068274, P03-099986, P03-100670,
P04-010785, P04-012822, P04-023890, P04-030619, P04-081042,
P05-025339, P05-056853, P05-029840, P05-028040, P05-026875,
P05-055965, P05-035961, P05-046991, P05-057482, P05-075624,
P05-135393, P07-036034