September 21st: Exponential Back-off for UW Aloha
The expriment purpose was to first, take a node-to-node baseline and second, repeate the test conducted on July 30th, eliminating time synchronization issues to confirm pervious results, please refer to the problem section here for more information.
Experiment location: receiving Node (MID3) was placed at Pocock rowing center and two source nodes (MID1, MID2) were setup in APL location.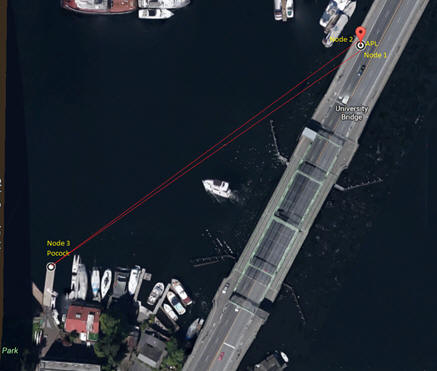 Deployment location
P2P Baseline:
We ran a 20 minutes baseline to determine the packet drop rate without modems competing for channel access. Baseline was ran at 0.15 packet/seconds where only MID2 is sending to MID1. Total of 74 packets was sent from MID2 to MID3 in which 1 packet failed to arrive at MID1. As it was expected, for this particular channel we have ~%99 success rate.
Back-off
Figure below compares back-off throughput to prior field experiments.
<![if !msEquation]> <![endif]>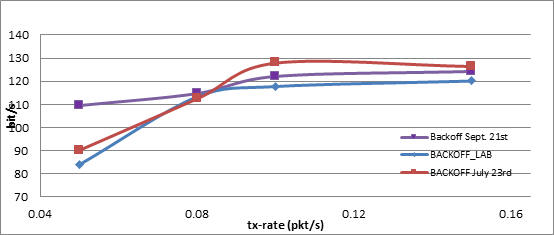 Throughput comparison between pure Aloha with no back-off and the new back-off scheme
Table below shows packet loss rate which is comparable to the July 30th experiment.
<![if !msEquation]> <![endif]>
Packet Loss Rate Percentage
| | | |
| --- | --- | --- |
| TX_Rate | Back-off July 30th (%) | Back-off Sept. 21st (%) |
| 0.05 | 31 | 31 |
| 0.08 | 44 | 39 |
| 0.10 | 39 | 39 |
| 0.15 | 44 | 41 |