July 30th: Modified Exponential Back-off for UW Aloha
The expriment purpose was to first, measure the Channel Impulse Response (CIR) of the lake. Second, test the performance of underwater network MAC protocol UW-Aloha with newly added back off scheme.
Experiment location: receiving Node (MID3) was placed at Pocock rowing center and two source nodes (MID1, MID2) were setup in APL location.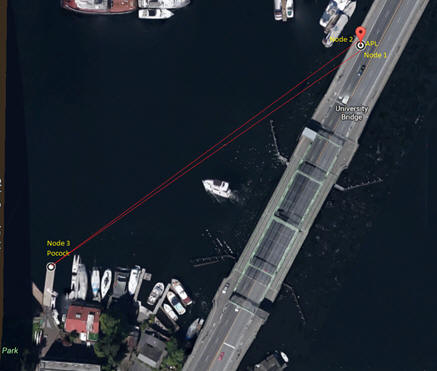 Deployment location
Back-off Scheme Algorithm
elow is the overview of Aloha Protocol plus modifications made for this experiment.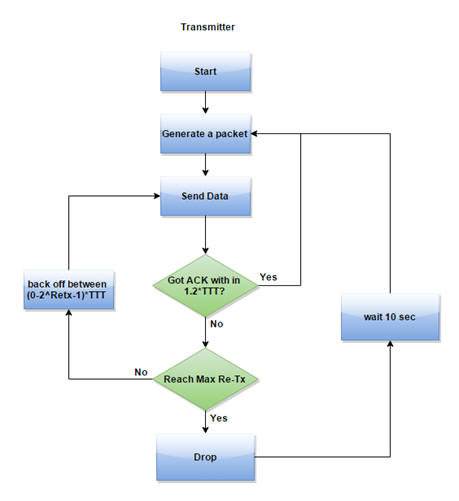 <![if !mso]>

<![endif]>

Receiver and Transmitter Algorithm

<![if !mso]>

<![endif]>

Field Experiment Results

The new back-off algorithm has shown better performance in compared to pure Aloha. Plot ,below, shows throughput improvement of back-off in compared to prior field experiment based on pure UW Aloha.

<![if !msEquation]> <![endif]>

<![if !msEquation]> <![endif]>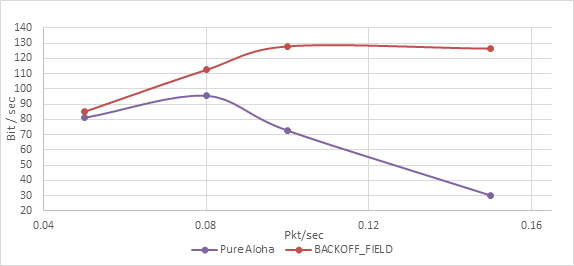 Throughput comparison between pure Aloha with no back-off and the new back-off scheme
Table 2 shows improved packet loss rate in the new algorithm.
| | | |
| --- | --- | --- |
| TX_Rate | Back-off (%) | Pure Aloha(%) |
| 0.05 | 31 | 48 |
| 0.08 | 44 | 47 |
| 0.10 | 39 | 60 |
| 0.15 | 44 | 84 |
AquaSent modems have four channel hydrophone receivers. Plot below depicts CIR waveform received by each channel prior to the 0.05 tx-rate trial. All ten CIR results consistently show maximum delay spread of less than 50ms. This means for future lake experiments, we can set time guard to 50ms, which increases transmission rate to 1.38 Kbps.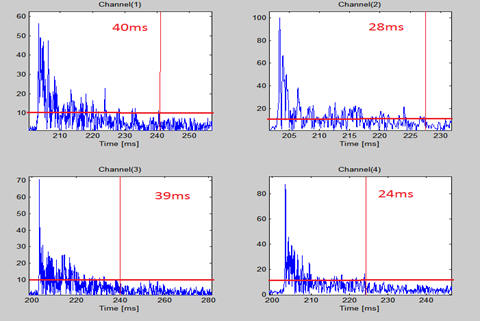 CIR taken before 0.05 tx-rate trial